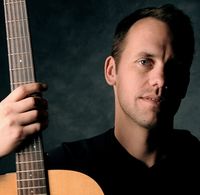 Ben Woolman is an accomplished guitarist, composer, instructor, performer, and has established a place for himself on the long historical line of fine Minnesota bred guitarists. His music can be heard around the world on cable, Internet, and terrestrial radio outlets in over 50 countries, spanning 6 continents, and among programming for Minnesota and National Public Radio, including over 6 million "spins" on the international Spotify music service.

He has been a guest columnist for Fingerstyle Guitar Magazine and Guitar Teacher Magazine, a featured artist in Akustik Gitarre Magazine - the premier European acoustic music magazine, and a contributing instructor and author for the DVD series, Acoustic Guitar Licks Goldmine, released by Hal Leonard Corporation - the world's largest music print publisher.
His compositions have been included in various film soundtracks and he has 10 recordings - solo and compilations - credited to date which have received numerous accolades, including favorable reviews from the leading acoustic music publications: Acoustic Guitar Magazine and Vintage Guitar Magazine. Woolman was a board member of the Minnesota Guitar Society and holds a BFA in Guitar Performance, with honors, from the University of Wisconsin/Wisconsin Conservatory of Music Cooperative Guitar Program, Milwaukee, WI.
Regarded as an engaging and inspiring performer, Ben has over 15 years' experience traveling the US showcasing his distinctive concert programming. Like his recordings, his concerts are a cosmopolitan blend of original compositions and arrangements spanning a wide range of repertoire from the 1920s to the present century. They are both a nod to the history, as well as a contemporary representation, of fingerstyle guitar.
In addition to his solo work, Woolman performed with the instrumental duo, New Roots Duo, whose debut CD, Roots Run Deep, was voted best local folk/roots album of the year by Mpls St Paul Magazine. Ben Woolman lives in St. Paul, Minnesota where he works as a performer, composer, teacher and writer.
 
Discography 
Red, Green and a Little Blue - A Holiday Guitar Collection, Floating Feather Music 2018
Many Moods, Floating Feather Music 2010
New Roots Duo: Roots Run Deep, Peacefire Productions 2008
Tis The Season: Classical Guitar, Compass Productions 2004
Wisdom / Delusion, Floating Feather Music 2003
Guitar Fingerstyle 2: A Narada Collection, Narada Productions 2001
Lifescapes: Solo Guitar, Compass Productions 2000
American Fingerstyle Guitar Circa 1999, Peacefire Productions 1999
Stratovox, Floating Feather Music 1997
Guitar Fingerstyle: A Narada Collection, Narada Media 1996
Lost In Density, Floating Feather Music 1995

Publications
John Williams for Fingerstyle Guitar, Book/CD, Hal Leonard 2014
Acoustic Guitar Licks Goldmine Series, DVD, Hal Leonard 2011
Live: Cedar Cultural Center